Championship week has come and gone, and some of our favorite rookies had clutch performances.  On a side note, if you're playing a week seventeen championship, you need to change that.  Without further ado, let's get into the Week 16 Rookie Review!
RUNNING BACKS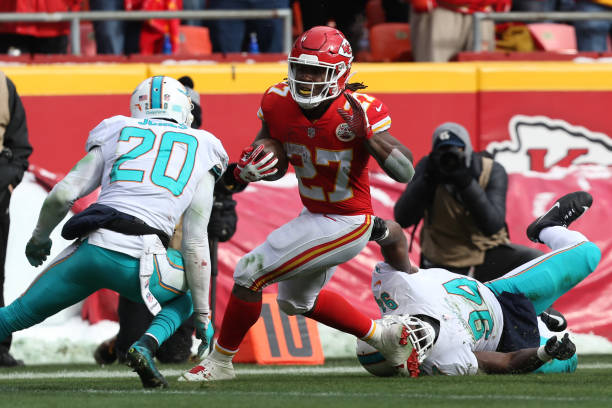 Kareem Hunt – 70% snap share (up from 65%), 106 yards, touchdown on 33 touches
If you rode Hunt throughout your playoff matchups, he delivered.  Over the past three weeks, he averaged 150 yards from scrimmage and at least one touchdown in each game.  After a disappointing stretch midseason, Hunt bounced back and regained most of his dynasty value.  I'd be throwing out feelers to see if the owner in your league has wavered on the Toledo Rocket.
Leonard Fournette – 56% (didn't play last week), 70 yards, touchdown on 21 touches
The matchup against San Francisco looked juicy on paper, only to have the Jags trailing for most of the game.  This led to Blake Bortles chucking the ball around fifty times, limiting Fournette's contribution.  His touchdown saved his fantasy day, but his volume is still unquestioned.
Samaje Perine – 49% (down from 62%), 74 yards on 2o touches
Perine split time in the backfield with Kapri Bibbs down the middle, taking 34 snaps to Bibbs' 35.  With no room to run, Perine looked how he did earlier in the season, running into the backs of his linemen.  I don't foresee Washington not adding to this backfield during the off-season.
Alvin Kamara – 57% (up from 47%), 90 yards on 19 touches
In a full PPR, Kamara still delivered sixteen points on a seemingly disappointing day.  It might not have been the 30-point day he was putting up almost weekly, but a mid-teen floor is absurd coming from a rookie.  I can't imagine Kamra will be traded in too many dynasty leagues between now and September.
Wayne Gallman – 72% (up from 41%), 62 yards on 16 touches
The Giants' run game looked god-awful against the Cardinals, with Gallman getting the rock ten times for an eye-popping 18 yards (yes, that's sarcasm).  The rookie out of Clemson had a decent day receiving, however, delivering six catches for 44 yards.
Jamaal Williams – 93% (up from 61%), 58 yards on 15 rushes
After last week, I thought we'd see a split backfield between the Packers' two rookies.  Jamaal's counterpart, Aaron Jones, then left the game after suffering another knee injury.  It seems as though Williams will get another shot to lead Green Bay's backfield in the season finale.
Matt Breida – 34% (up from 27%), 82 yards, touchdown on 12 touches
Just like everybody predicted, the 49ers took it to the Jaguars.  To add to that, we all saw Breida being the one to put the game away, right?  The UDFA out of Georgia Southern had his best game as a rookie against the league's top defense because #football.
Christian McCaffrey – 80% (up from 71%), 58 yards on 11 touches
One of my concerns for CMC landing with the Panthers was his usage.  Unfortunately, this game showcased that.  There were no game script issues here, and McCaffrey saw just nine carries and four targets (two catches).  The hope is that moving forward, the coaching staff finds ways to get him involved on a more consistent basis.
Tion Green – 20% (down from 37%), 43 yards, touchdown on 7 carries
Tion has been making the most of his opportunities for Detroit, but I don't see it being enough to guarantee him a role moving forward.
Marlon Mack – 24% (down from 44%), 54 yards on 6 touches
This situation just makes me sad.  I truly don't understand what Pagano and his coaching staff are thinking with limiting one of their more dynamic playmakers.
Brian Hill – 8% (down from 9%), 51 yards on 5 touches
I liked Hill coming into this season as a late round/sleeper pick, and he made some explosive plays against the Lions.  Unfortunately, he's behind Joe Mixon and Gio Bernard.  If you could stash him on a taxi squad until next preseason, I might make that move just to see where he ends up.
Joe Mixon – 8% (left game injured), 32 yards on 5 touches
After missing the past two games with a concussion, Mixon left the game with an ankle injury after just seven snaps.  Mixon will be a rookie I'll be sending offers for once trading reopens.
Tarik Cohen – 28% (down from 36%), 21 yards on 4 touches
See Mack, Marlon.
Corey Clement – 40% (up from 15%), 20 yards on 3 touches
There's a scenario I can see where Clement is the number two running back behind Jay Ajayi next season.  For that reason, I would send out low-ball offers of late third round picks for Clement.
Aaron Jones – 6% (left game injured), 13 yards on 3 touches
Tough break for the divisive rookie.  Jones played 37% of the snaps last week, finally looking like his mid-season form after an MCL injury sidelined him for two weeks.  It'll be interesting to see how the Packers approach their backfield during the offseason.
De'Angelo Henderson – 7% (up from 0%), 4 yards on 2 touches
Henderson's two touches were one rush for negative three yards and a seven-yard catch.  Henderson's appearance in the Week 16 Rookie Review marks his first since week three, where he delivered one yard on one carry.  What I'm saying is that you can confidently push the sixth-round rookie to the depths of your memory bank.
Matthew Dayes – 2% (up from 0%), 3 yards on 1 rush
While Dayes has been special teams staple for the Browns, he only has four other weeks with an offensive touch and his first since week eleven.  With the amount of draft capital Cleveland has going into the 2018 draft, I'm fully expecting them to add to their running backs.  If not, Dayes would be an interesting name to circle back to.
WIDE RECEIVERS
Keelan Cole – 86% (up from 74%), 108 yards on 6 catches (13 targets)
That marks three fantasy-friendly performances in a row for the UDFA out of Kentucky Wesleyan.  Hopefully, you didn't drop him in the middle of the year like I did.
Corey Davis – 78% (down from 84%), 91 yards on 6 catches (9 targets)
Thanks a lot for showing up, Corey.  Although it was too little, too late for fantasy owners, it was a welcomed site nonetheless.  Along with Joe Mixon, Davis is a guy I'm sending trade offers out for.
JuJu Smith-Schuster – 85% (down from 99%), 75 yards, touchdown on 6 catches (7 targets)
The Steelers rookie continues to do his thing, rewarding owners who drafted him late round one, early round two in rookie drafts.  Life without Ben will be interesting, but we should have at least one more year until that happens.
Dede Westbrook – 97% (up from 79%), 74 yards on 4 catches (7 targets)
If you would have told me that we'd be talking about two Jacksonville rookie wide receivers as legit fantasy options, I'd have called you a liar.  Outside of seeing just two targets last week, Westbrook hasn't seen fewer than six targets since being activated from IR.  I'm already looking forward to seeing what the Jags do with this offense between now and week one of next year.
Cooper Kupp 94% (up from 70%), 65 yards, touchdown on 4 catches (6 targets)
After a pretty bad drop earlier in the game, Kupp bounced back to score the game-winning touchdown.  He's definitely a rookie I wish I would have been higher on, as he was routinely going in the third round of rookie drafts.
Kenny Golladay – 95% (up from 79%), 28 yards on 4 catches (8 targets)
The targets and snap share for Golladay in week sixteen mark season highs for the NIU rook.  Kenny G will be a nice best ball and GPP asset going forward, but I can't see him being a consistent weekly play as long as Golden Tate and Marvin Jones are there.
Chris Godwin – 84% (up from 56%), 98 yards on 3 catches (6 targets)
With Adam Humphries being a restricted free agent at season's end, I would love to see Godwin take over the number three role in Tampa Bay.  Add the former Penn Stater to my list of offseason buys.
Michael Clark – 42% (first NFL game), 36 yards on 3 catches (9 targets)
With Davante Adams out and Jordy Nelson leaving the game early, an undrafted free agent saw nine targets in his first NFL action.  Clark ran a 4.58 forty-yard dash at 6'6″, 217 lbs, good for an 83 percentile speed score according to PlayerProfiler.com.  With the Packers facing some big-name contract decisions going into 2018, Clark might provide cheap depth, but I wouldn't be going crazy to add him to my dyno squads.
Trent Taylor – 37% (down from 49%), 19 yards, touchdown on 3 catches (4 targets)
Since I've been giving away all of my rookie trade targets, I'll add Taylor here as well.  With Jimmy G looking like the truth, Taylor's slot role is safe moving forward.
Bobo Wilson – 6% (first game since week 13), 18 yards, touchdown on 1 catch (1 target)
Week sixteen marked the first NFL target Wilson has seen.  You may move on.
Kendrick Bourne – 38% (down from 44%), 12 yards on 1 catch (5 targets)
I've enjoyed the flashes I've seen from Bourne since registering his first catch in week nine, but I don't see anything more than a backup role in 2018.
Isaiah McKenzie – 20% (first game since week 13), 8 yards on 1 catch (2 targets)
Similar to Matthew Dayes, McKenzie has seen most of his work on special teams.  There have only been ten targets thrown his way, and with the return of Carlos Henderson next year, I don't see much of a fantasy impact for the Georgia rookie.
Travis Rudolph – 81% (first game since week 12), 6 yards on 1 catch (2 targets)
With a fully healthy Odell Beckham, Sterling Shepard, and Evan Engram, Rudolph won't be seeing the field.
Josh Malone – 19% (down from 45%), 2 yards on 1 carry (1 target)
Yes, you read that correctly.  Malone had one target which he failed to catch and had two yards on 1 rush.  Meh.
TIGHT ENDS
George Kittle – 51% (up from 40%), 42 yards, touchdown on 3 catches (3 targets)
This is what I've been waiting for!  As with Trent Taylor above, Kittle is a guy I'll be kicking the tires on with the revelation of Mr.Garoppolo.
Jacob Hollister – 18% (up from 5%), 10 yards on 2 touches (2 targets)
While Hollister has an interesting athletic and production profile, he's an afterthought in the shadow of Gronk.
David Njoku – 51% (up from 50%), 13 yards on 1 catch (3 targets)
While it's not the production you're looking for, the fact that Njoku's snap share has stayed around 50% the past several weeks is a win.  That's the point that we're at with the Breveland Clowns (see what I did there?).
Jonnu Smith – 38% (up from 27%), 13 yards on 1 catch (2 targets)
Stash and wait.
Evan Engram – 18% (left game injured), 12 yards on 1 catch (2 targets)
I'm assuming that with the Giants' lost season, this will be the last of Engram we see in 2017.  I'd be buying at a fair price, but I'm not sure he's worth overpaying for.
Jeremy Sprinkle – 20% (up from 6%), 6 yards on 1 catch (1 target)
While this game only brings Sprinkle's season totals to two catches on three targets for thirteen yards and a score, he's an interesting stash.  Vernon Davis is only getting older, and we all know Jordan Reed's deal.  With all of the needs Washington is facing, I don't foresee them spending a lot of capital on a tight end.
Ryan Malleck – 7% (first NFL game), 3 yards on 1 catch (1 target)
Malleck was activated from Houston's practice squad on the 23rd, after being picked up and dropped from a handful of other teams over the course of the season.  Now you can forget that and go on with your day.
That's going to wrap it up for the Week 16 Rookie Review!  Huge thanks to everyone that reads this weekly and reaches out to me.  Make sure to check back in next week where I'll be giving seasonal totals along with week seventeen notes.  We'll be getting into my favorite time of year as the 2018 draft draws nearer, so hit me up on Twitter!  Thanks as always to the Football Outsiders and Pro Football Reference.