Another week in the NFL has gone by, so it's time to check in on our favorite rookies.  No need to delay, let's get to the Week 9 Rookie Review!
RUNNING BACKS
Christian McCaffrey – 82% snap share (up from 58%), 94 yards, touchdown on 20 touches
Week nine marked the first time all season CMC led the Panthers in rush attempts.  With Jonathan Stewart struggling, this could be the beginning of McCaffrey's takeover.  You're not going to get him at a discount, but his price is only going to climb going forward.  This might represent a "buy low" in that sense.
Alvin Kamara – 42% (down from 51%), 152 yards, two touchdowns on 16 touches
What else is there to say about the UT product at this point?  The snap share isn't an issue at all, as Kamara touched the ball on 64% of his 25 snaps.  He saw ten carries for 68 yards and one TD, adding six catches for additional 84 yards and another TD.  You can't count on these weeks, but Kamara has the massive ceiling to go with an insanely safe floor.
Joe Mixon – 72% (up from 62%), 46 yards, touchdown on 16 touches
With Jeremy Hill inactive, Mixon saw his highest snap percentage, although it didn't amount to much in the box score.  Along with dominating the snaps, Mixon out-touched Gio 16-2.  I would be checking the temperature of the Mixon owner in your leagues.  If they're frustrated or impatient, it could be time to pounce.
Elijah McGuire – 30% (up from 5%), 39 yards on 14 touches
With the game well in hand, McGuire saw his highest snap count since week six.  This is the only scenario outside of injury that McGuire will get any meaningful work.  I would wait for an owner to drop him, grab him off waivers and stash him if you believe in McGuire going forward.  Otherwise, he's off the fantasy radar.
Corey Clement – 41% (up from 27%), 66 yards, 3 touchdowns on 13 touches
Nope, that's not a typo.  Clement found the end zone three times on just 13 touches Sunday.  Two of his touchdowns came on the ground along with 51 yards, and his third on his only catch of the game.  With Ajayi joining a crowded backfield, the breakdown looked like this: Clement 28 snaps (41%), Ajayi 17 (25%), Blount 16 (23%), Smallwood 6 (9%), Barner 2 (3%).  This isn't a situation I want to buy into, but you're not dropping Clement at this point.  I'll be interested to see how this split looks in week eleven after the Eagles' bye.
Kareem Hunt – 54% (down from 74%), 61 yards on 13 touches
Hunt has been a hot topic this week, as his production has been a stark contrast the past two weeks compared to the beginning of the season.  He's still leading snaps and touches in the KC backfield, but owners are no doubt disappointed.  Again, if you can take advantage of an uneasy owner, go do it.
D'Onta Foreman – 28% (up from 1%), 37 yards on 11 touches
After ceding his backup role to Alfred Blue last week, Foreman retook his place in Houston's backfield.  With Tom Savage, aka the "statuesque pocket sloth" (props to Evan Silva for that one), at quarterback, everyone's value takes a hit.  If you have Lamar or don't believe Lamar for next year, this should make buying Foreman easier.
Wayne Gallman – 25% (down from 37%), 41 yards on 9 touches
Gallman rattled off a few nice runs, but with a lack of involvement in the passing game, it was a quiet day for the Clemson rook.  He could be worth a stash on deep rosters with rumors of McAdoo on the out in New York.
Marlon Mack – 41% (down from 53%), 29 yards on 9 touches
Until Gore is gone, there will be these types of weekly ups and downs from Mack.  For now, owners will have to ride the roller coaster.
Aaron Jones – 24% (down from 80%), 11 yards on 7 touches
Just when we think we have a grasp on a situation, something like this happens.  When we last saw Jones in week seven, he gashed the Saints defense and dominated the backfield.  Fast forward to week nine, TyMo saw 41% of the snaps, and even Jamaal Williams made an appearance (see below).  I think Montgomery and Jones handle the majority of the work going forward, but I'll want to see how things shake out next week.
Matt Breida – 23% (down from 32%), 19 yards on 3 touches
After being told there isn't much of a difference between Breida and Hyde, the former has been a relative non-factor.
Samaje Perine – 10% (up from 0%), 9 yards on 2 touches
Even with Rob Kelley being limited, Perine still can't make an impact.
Jamaal Williams – 15% (up from 0%), 32 yards, touchdown on 3 touches
Williams punched it in from a yard out for his first NFL touchdown.  With Hundley at the helm, this entire offense has been knocked down a peg.
WIDE RECEIVERS
Zay Jones – 53% (down from 80%), 53 yards, touchdown on 6 catches
For those of who have been reading this for the past several weeks, you know I've been waiting for this!  Jones ran a really nice route to get wide open in the end zone for his first career TD.  It's a little bittersweet, however, as Zay will probably miss this week after being intentionally tripped by Buster Skrine.  The injury looked much worse, so there's some bright side.  Hopefully, when he returns, he can pick up where he left off.
Cooper Kupp – 61% (down from 79%), 54 yards on 3 catches
On a day where Jared Goff had 300+ passing yards, Kupp's 54 yards seem low.  Then you realize he only completed 14 passes.  Kupp still offers a decent PPR floor, but with the Rams efficient offense and Goff spreading the ball around, you may get sub-6 point weeks as well.
Keelan Cole – 61% (down from 60%), 47 yards on 3 catches
Cole has played 55% of the total offensive snaps this season, but it hasn't provided any fantasy production.  With Dede Westbrook returning soon, Cole may become an afterthought.
Curtis Samuel – 75% (up from 28%), 37 yards on 3 catches
Looks like the Panthers front office wasn't kidding when they said part of the motivation for trading away Kelvin was to get more speed on the field.  Samuel's 49 offensive snaps were easily a season-high for the Ohio State rookie.  While he only saw 5 targets, it's a great sign going forward.
Kendrick Bourne – 54% (up from 36%), 39 yards on 2 catches
Welcome to the Week Nine Rookie Review, Kendrick!  An undrafted free agent from Eastern Washington, Bourne has been thrown into action the past two weeks.  With Garcon on IR, Taylor out for the foreseeable future, and Kittle already ruled out for week ten, Bourne has a huge opportunity in front of him.  If your rosters are deep enough, I'd add him just for the slim chance he turns into a WR5 for your dyno team.
Trent Taylor – 20% (down from 59%), 22 yards on 2 catches
In case you missed the news, Taylor left the game with a rib injury and is now out indefinitely.  Stash him and see what the roster looks like next season.
Corey Davis – 75% (first time active since week two), 28 yards on 2 catches
The 1.01 rookie pick for a lot of dynasty players has finally returned to the field.  While his stat line isn't anything to write home about, the 75% snap share is a positive sign that Davis is completely past his hamstring issue.  Hopefully, we'll see week-one-Davis as soon as this Sunday.
Isaiah McKenzie – 20% (up from 18%), 14 yards on 1 catch
This was only McKenzie's second catch of the year.  With the mess at quarterback in Denver, I'm not interested in the fifth-round pick from Georgia just yet.
Josh Malone – 79% (up from 34%), 13 yards on 1 catch
A benefactor to A.J. Green's WWF wrestling match, Malone saw 31 snaps against the Jaguars.  This only translated to 4 targets, however, and with Green not being suspended by the league, his snaps are sure to go down.  Malone can be left on your taxi squads or waivers for now.
Jehu Chesson – 7% (up from 0%), 10 yards on 1 catch
Even if Chesson took over the WR2 spot for KC, he won't see enough volume to be fantasy viable.  He's safe on waivers.
Chris Godwin – 31% (up from 21%), 9 yards on 1 catch
Godwin continues his streak of one catch for around eight yards.  With Mike Evans receiving a one-game suspension, the Penn Stater should see more playing time.  With the positive news, comes the negative.  His targets will be coming from the beardless Ryan Fitzpatrick.
Mack Hollins – 43% (up from 26%), 8 yards on 1 catch
The elevated snaps could be directly related to the stomping the Eagles gave the Broncos, but he saw only 1 fewer snap than Torrey Smith.  As I've been saying for several weeks, he's my favorite roster stash.
Taywan Taylor – 13% (down from 44%), -4 yards on 1 catch
Predictably, Taylor's snaps took a plunge with the return of Corey Davis.  Taylor is another player I'd be picking up and stashing if one of your league-mates drop him in the upcoming weeks.
TIGHT ENDS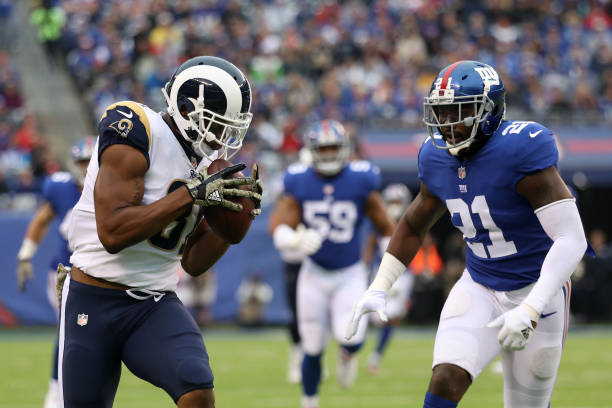 Evan Engram – 85% (up from 80%), 70 yards, touchdown on 4 catches
Engram continues to be the best rookie tight end by far, and one of the more reliable TEs in general.  He would make my "guys I wish I would have been higher on" list.
George Kittle – 45% (down from 62%), 27 yards on 3 catches
Another 49er injured during the game early last week, Kittle has already been ruled out for week ten.  A SPARQ monster, you're holding onto him and hoping he continues to develop.
Gerald Everett – 23% (up from 22%), 57 yards on 2 touches
Thirteen of Everett's yards came on a rush attempt, and with both of his touches, he was just yards from finding pay dirt.  After the draft, Everett was apparently on a short list of guys that McVay didn't want to miss out on.  That hasn't materialized into much, but worth keeping in the back of your mind.
O.J. Howard – 63% (up from 58%), 6 yards on 1 catch
Until the depth chart clears up for O.J., you can't confidently plug him into your lineups.  The time to buy him will be during the offseason when your league-mates are falling in love with the 2018 class.
That'll do it for the Week 9 Rookie Review!  As bye weeks come to a close, I'll be posting year-to-date numbers to go along with the weekly stats.  This will give us a complete picture and provide potential trade targets as trade deadlines loom.  Until then, make sure you're looking at our weekly ranks and let me know who you're stashing in your dynasty leagues!