So, here at TFA, we know and understand your busy life. It's hard for most fantasy owners to keep updated  as training camp begins. The news starts rolling out in droves and it can be difficult to keep up. The Fantasy Authority has your back. Each week of training camp, we will summarize significant news and notes from each NFL team. Giving you a one-stop-shop instead of scouring the internet and Twitter trying to find news about your favorite teams. The Denver Broncos began this week, so here's your FIRST Broncos training camp update!
Coaching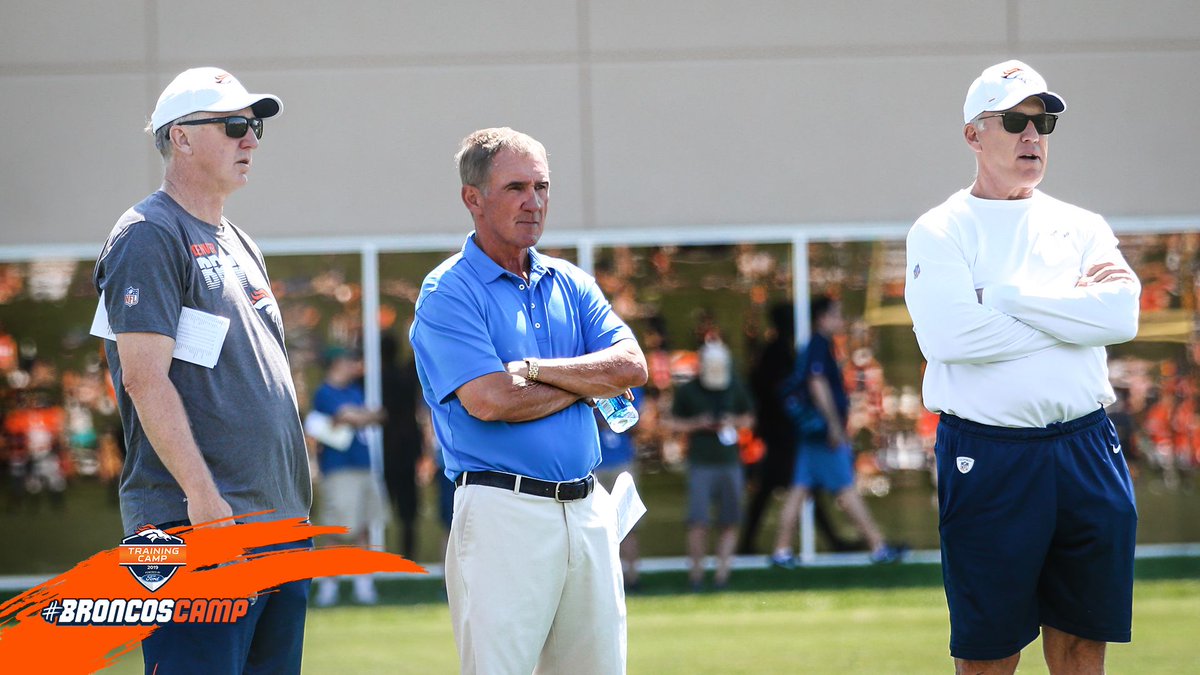 Denver hired new head coach Vic Fangio for 2019. He worked as the defensive coordinator for teams such as Chicago (last 4 seasons), San Fran, and Houston and has 32 years of experience in the NFL. However, this is his first time as a NFL Head Coach. He's been described as "old school" and focuses on fundamentals. He's deliberate in his approach and knows how he wants to coach this team.
The most talked about change this week? No music at training camp. Coach explained that they plan to simulate crowd noise at practice, but that music is not part of the game, so it won't be a part of practice. He expects his players to be focused and communicating with coaching staff, which music can make more difficult. Vic Fangio knows how he wants to run his football team, down to the nitty gritty details, and does not want another losing season.
Former Head Coach Mike Shanahan visited the facility on Saturday and watched from sidelines, which added an energy to the first day with pads. Fangio on having Shanahan at camp : "I think it's good he's here. Mike's got a big part in the rich history of this franchise. He's welcome to come here anytime he wants."
Quarterback
Both Joe Flacco and rookie Drew Lock received mostly positive reviews from onlookers this week, with each having their ups and downs. Kevin Hogan struggled the most (no surprise) and he is technically the #2 behind Flacco currently. That's not going to last long, as the debate at QB is firmly between Flacco/Lock. The job seems to be Flacco's to lose and Denver sees Lock as a work in progress.
Well, Fangio doesn't mince words, I'll say that. Drew Lock indeed needs development to be an NFL caliber QB and Fangio wasn't shy about saying he doesn't think Lock is there yet. "He's not a quarterback yet. He's a hard throwing pitcher that doesn't know how to pitch yet." Noting also that Drew needs to improve "in all areas…everything. Just become a quarterback."
So, Denver's expectations seem realistic and focused on growth for their future starter. It most likely is ideal for Lock to learn behind Joe Flacco this season, but many speculate that if Flacco falters (which is completely possible), we could see starts for the rookie in 2019.
The Bronco's current starter, Joe Flacco, is going with the flow. Beat writers have mostly described Flacco as doing well these initial few days at Bronco training camp, but he had a few interceptions of his own. Fangio described him as having a "calm demeanor" yet still being a "fiery competitor". The new coach seems to be developing a good working relationship with Flacco and sees him as a resource and model for the younger players.
Running Back
The Denver backfield is one to watch this off-season. The duo of Phillip Lindsay, 2018's most unexpected fantasy darling, and Royce Freeman, 2nd year RB hoping to get the opportunity to show he can be impactful. Lindsay took first team reps for the first time since injuring his wrist in December 2018. Beat writers described him as high energy, "electric", and seemingly without limitations on the field.
Coach Fangio and QB Joe Flacco both had positive comments about Lindsay's performance. Flacco stated, "he's like one of my kids. I don't know where he gets all the energy, but he has it 24/7." While Coach commented that Lindsay was "chomping at the bit" to play again and looked solid both on the ground and in the passing game.
I'm going to be honest with you, there hasn't been much talk out of camp about Royce Freeman. This is one of the biggest training camp RB battles, but there isn't much to report at this point. Both are getting first team reps and participating in team drills. Lindsay generated more excitement and therefore more news with his energetic return, but this will be a backfield to continue to watch as training camp unfolds.
In other RB news, Khalfani Muhammad put the exclamation point on Day 3 with an impressive last-snap catch in close coverage. He showed solid work this week and is quick, noted as "showing burst" when given opportunity. He should be a preseason DFS player to watch. Another to keep an eye on is Devontae Jackson, who would love to beat out Devontae Booker and make this roster.
Wide Receiver
Oh, you know who you want to hear about. How the hell does Emmanuel Sanders look coming off his Achilles injury? He participated in individual drills for the first time this off-season and was described as looking explosive. There were no reports of observed limitations, but did not participate in team drills yet. Sanders himself said he experienced no pain and "felt like [himself]". I've been a fan of Manny since he played for Pittsburgh, so I would love a bounce back here.
Courtland Sutton struggled early in the week (lot of drops), but ended Saturday's practice on a nice toe tapping reception from Joe Flacco. We will have to see if he can replicate that in the coming practices. If Manny Sanders struggles at all this season, Denver will need Sutton to step up. DaeSean Hamilton had a quiet few days, without much news but did catch a TD pass from Flacco in 7-on-7 drills.
Speaking of stepping up, rookie and sixth round pick Juwann Winfree is a guy to watch. He stood out at every practice so far and, though early, he is turning heads. Winfree's issue is staying healthy, but seems to be a great addition to WR depth and looms large at 6'3″ and 215 lbs. Another name you might want to know for preseason DFS is Trinity Benson, undrafted rookie with speed that played with first team in 11-on-11 drills this weekend.
When asked about the young talent, Fangio indicated the best way to get a good look is to "throw them in there with the guys that are ahead of them, see if they look the part". Well, Winfree and Benson will look to do just that in coming weeks.
Tight End
The Broncos aren't hurting for depth at the tight end position in 2019. Jake Butt, returning from a torn ACL, completed 7-on-7 repetitions while he continues to work toward 100% health. Notable though, is the rotation of tight ends Jeff Heuerman, Troy Fumagalli, Noah Fant, and Austin Fort into first team reps this week.
Fort–an undrafted free agent– took advantage of Jake Butt's slow start and Fumagalli (hip) being out by showing off his skills. Flacco often looked his way and chemistry seems to be developing there. He also appeared to improve his blocking skills, something he emphasized working on with tight ends Coach Wade Harman.
Meanwhile, first round pick Noah Fant shined in red zone drills, which is exactly where we can expect Denver to use him. Fant connected on passes from both Flacco and Lock and seems to be meeting the high expectations they have for their first-rounder. Some are speculating that the Broncos might roster all four tight ends, but it's only Week 1, so we will just keep an eye on this battle.
Defense
The word used most often to describe the Broncos defense at training camp thus far : "dominant". They forced four interceptions on Saturday alone (Justin Simmons with two himself) and reportedly communicated well together. Denver's defense got good pressure, with DeMarcus Walker standing out with four QB pressures and a "sack". Von Miller was in the mix, as usual, breaking up plays and having fun with the crowd.
Rookie Josey Jewel stepped up at linebacker position the last couple of days when given opportunities with first team (rotating in for injured Todd Davis). It's good to see their defense can recover even after losing a key piece so early in training camp. When reading descriptions of big plays at camp, Jewel's name came up several times.
Fangio is pleased with this side of the ball, being defensively minded of course, but wasn't thrilled with all the turnovers. Emmanuel Sanders shared this sentiment and expanded, "The defense is going to be good this year…But, we've go to hold on as an offense and take care of the football." If the first three days of camp are any indication, this defense is not going to make it easy on their offensive counterparts.
Injuries
On the first day of Broncos training camp, Denver already saw one of their players carted off the field and held their breath waiting for news. Deemed "one of the most vocal leaders on the team" by teammate Bradley Chubb, Todd Davis (inside line backer) went down with a lower leg injury. An MRI showed that Davis suffered a partial calf tear that will keep him out for 3-4 weeks. They dodged a bullet here and it looks like Todd will return in plenty of time for Week 1.
Fangio rotated a group of players including both Alexander Johnson and Josey Jewel at the position during first team reps. He's giving special teams and young players (like undrafted rookie Josh Watson) opportunities to work with the first team while Davis is out.
Other notable injuries: Troy Fumagalli (TE)is day to day with hip injury. Guard Ron Leary is "fine" but they are limiting his reps right now.
I'll be covering the Denver Broncos training camp updates all month, so stay tuned to keep informed. Don't forget to follow me on Twitter @theonlyJenSmith and check out other training camp updates and relevant fantasy football content at The Fantasy Authority!